Welcome to another week of Catch as Catch Can! These are a few items that "caught" my eye last week.
Suesan @ frou-fruGal
Maple & Magnolia
Chrissie @ Chrissie's Collections
Sandi @ Making it Homey
Lindsay @ Diary of a Crafty Lady
Meg @ Megs and Mum
Look at that dozer scooping up the name!
Shannon @ Quarry Orchard
Jenni @ These Creative Notions
Terri @ Fresh Cut Flours
My Scrap Book Life
Michelle @ Falafel and the Bee
Your Favorite:
Suzanne @ Meridian Road
We must all think alike. Every week after I write up this post, I look at my LinkyTools to see which post was the most visited. EVERY time, I have already "caught" the most popular.
If you were caught, grab the button:
If you are linking up this week, please post this button: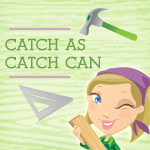 Let's see what cha got!
gail
I appreciate you reading my blog in your reader and/or via email.
You can reach me at gail@MyRepurposedLife.net