Wow, it's been a long week! I'm still playing catch-up from my trip to Disney World. Speaking of which, you can check out some of our vacation pictures over at jamie's Owl Really, pt1 and pt 2. As I was trying to "catch" features last night, I was having major browser/computer problems. I was unable to leave comments on blogs. I honestly just gave up. So, this week I am featuring the most viewed items from last week. There were a few more, but they didn't link back to My Repurposed Life. It's sort of an unspoken rule around here, if you want me to link to your blog (feature you) then the least you can do is link to my blog. Thank you to those who do!
Design Dreams by Anne
YOUR FAVORITE:
If you were "caught" thanks for linking back to me, feel free to grab this button:
If you're linking up this week and you'd like a chance to be "caught" next week, you can use this button, or you can do a text link.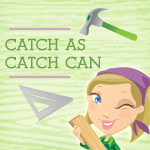 Let's see what you've been up to, show us what you've got!
I appreciate you reading my blog in your reader and/or via email.
You can reach me at gail@MyRepurposedLife.net