I blogged about the 3M Frameworks Couple Speak contest. It's over there on my sidebar—->>>> Today was the last day to enter. I guess you could say I'm a procrastinator. I called Cathy last night and asked her if she wanted to join in on the fun. To my surprise she said yes. It was a lot of fun, but really just another day of our couple speak. Many times we disagree and/or miscommunicate.
You can see our video over at the 3M Frameworks Facebook page. On the left click Contest: Couple Speak, you may need to "like" their page first. I'm sure you already do, right? While you're there, why not go ahead and "like" our video.
If you aren't one of those social butterflies, you can see the video on their YouTube page.
On with last weeks features. These are a few of the items that caught my eye! Thanks for linking up and linking back!
Your Favorite:
Family Chic
If you were caught, feel free to grab a button:
If you're linking up this week, please add this button to your post or do a text link.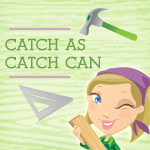 Can't wait to see what you have this week! Link UP!
gail
I appreciate you reading my blog in your reader and/or via email.
You can reach me at gail@MyRepurposedLife.net