Oh my 52 weeks of Catch as Catch Can! It's hard to believe! These are some of the items that caught my eye last week. Thank you all for linking up and linking back to Catch as Catch Can! You Rock!
It was VERY close in the "Your Favorites" dept
In no particular order . . .
Debbiedoo's blogging and blabbing
There was one more favorite, but they didn't link back, so I am not "catching" them. There are no rules to link up to my party, but if you want to get caught you must link back to My Repurposed Life in the post.
If you were caught, feel free to grab this button:
If you choose to link up a project this week, include this button IN YOUR POST, a text link IN YOUR POST is also acceptable. (thank you)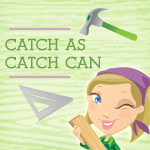 Let's see what you've got!
gail
I appreciate you reading my blog in your reader and/or via email.
You can reach me at gail@MyRepurposedLife.net