If you're new around these parts you may not know that I have a weekly Link Party. I searched the archives for the first party to explain how it got its name.
While talking to Jamie I mentioned I was trying to think of a name for a regular Friday link party. She came up with the perfect title. It doesn't really go well with Friday but that's okay. Some of you may be familiar with the phrase: Catch-as-catch-can. If you were a member of my family you would say it very fast, more like this ketchasketchcan, as though it were all one word instead of a phrase. While I was growing up that's basically how we referred to leftovers, or whenever we had to "fend" for ourselves. The dreaded question "what's for supper" was often answered "ketchasketchcan". I liked it when I heard that, because I had the freedom to find something to eat, my choice.
Answers.com says this: Using or making do with whatever means are available; irregular, made a catch-as-catch-can living doing odd jobs
That pretty much sums up the way I DIY, and the way I'm currently living my life.
So, here we are on the 56th installment of Catch as Catch Can. There really are no rules here. You do not have to be a follower, nor do you have to visit the person ahead of or behind you. However, that being said, if you don't visit others, they probably won't visit you. Just sayin'.
If you would like to get "caught" you must display my button.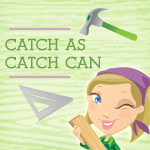 It's been almost a month, I expect a big gathering for this party! Let's see your best stuff!
gail
I appreciate you reading my blog in your reader and/or via email.
You can reach me at gail@MyRepurposedLife.net