Pretty Table, super Paint Tip from The Creative Imperative
Never A Dull Day (hand painted flowers)
Debbiedoo's (paint and stenciled boots)
Blue Roof Cabin I love a great tute, especially when it involves a chalkboard!
Pretty Hutch, plus a DIY Chalkpaint Tute from Elizabeth & Co.
Pantry Sign CK&Nate
Headboard + 3 chairs = bench @ Freddy & Petunia
Primitive & Proper DIY Bar Cart
Renewed Upon a Dream, dresser into changing table
Turnstyle Vogue, Royal Crown Bottle !!
The Salvage Collection
I inspired Whimsyspace to do a Frame Wall
House Of Hawthornes
My Fabuless Life
Your Favorite:
If you were caught, grab a button!
If you are linking up this week, you must include a link back in your post. You can grab the button below, or do this text link: My Repurposed Life-Catch as Catch Can LinkyTools will not accept your link if you do not have the link back in your post with the correct URL. This party takes a lot of time, I'm happy to send new friends to visit you, and I appreciate you returning the favor.
I am out of town, so if you have trouble linking up, make sure you follow the directions above. I may not be around to help you figure it out.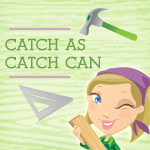 Let's see what you've got!
gail
ps If you have word verification, I won't be leaving a comment. Since blogger has changed to "true" captcha, these old eyes can't make out the characters. I encourage you to turn it off, to see how things go. Please turn off word verification.
I appreciate you reading my blog in your reader and/or via email.
You can reach me at gail@MyRepurposedLife.net