Welcome to another week of Catch-as-catch-can. If you're new here, let me explain why my party is called Catch-as-catch-can.
The definition of catch-as-catch-can is:
Using or making do with whatever means are available; irregular: made a catch-as-catch-can living doing odd jobs.
As I was growing up, my mom used this phrase to tell my sister and I that we were on our own for food. Catch-as-catch-can meant that we were to fend for ourselves with any food we could find. I liked it, because it meant I got to choose what I wanted to eat.
When I see the definition, I think of how I live my life now—making do with whatever means are available. And I'm also known to do odd jobs to make a living.
Please feel free to link up any post, old or new. If you link to your blog in general, please use your button as the thumbnail. Etsy shops are also welcome. No real rules.
If you would like to grab my button, I'd appreciate it. Jamie worked on a new one for me. I love it! It flashes! Isn't that cool? My daughter really is awesome!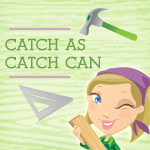 That's it! Link up! I will "catch" some projects and highlight them next week.
I appreciate you reading my blog in your reader and/or via email.
You can reach me at gail@MyRepurposedLife.net