Some awesome projects caught my eye last week! Thanks to everyone who linked up, wish I could "catch" you all!
Melanie @ The Frosted Gardner, worked wonders on this library card catalog piece.
Sharon @ Elizabeth & Co. painted up a girly desk!
Ya'll know how much I love wordle! Trendy Pockets likes Wordle too.
Kim @ Second Time Furniture gives great pointers on this chest of drawers!
Melanie @ Creative Art & Design makes these nap mats. I don't know which is cuter the mat or the model!
Jan @ Bobbypin's Boardwalk will surprise you with these drapes!
Cassie @ Primitive & Proper – don't you just love this!
Allison @ Fab Rehab got a great deal on this little beaut!
Rock N Regalia made some adorable rockin' beanies!
Look at those curves! See what Debbie at Simply Southern did with this cutie!
Look at this fun fabric!
Can you help a friend? Rose @ Confessions of a Curbshopaholic is looking for ideas to use this curbed wallpaper. Rose finally decided on a project!
Stephanie @ Cre8tive Designs is so talented and cre8tive! She's also a very nice lady who did not link up but I wanted to highlight her anyway!
Caught? Grab the button!
Aren't those awesome projects? Show me what you have this week!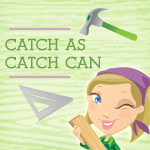 No giveaway this week, but I have a FABULOUS one coming next month. You won't want to miss it!
gail
Link up troops!
I appreciate you reading my blog in your reader and/or via email.
You can reach me at gail@MyRepurposedLife.net