These are the items that "caught" my eye this week. There were more, but I can't feature them all! Clicking the picture takes you to the post, clicking the blog link takes you to the blog's home page.
Angie @ Country Chic Cottage shared this beautiful wreath!
Suesan @ FrouFruGal
Married? thinking about getting married? have a man in your life?
Dianne @ The Inspired Housewife has GREAT advice for you to live happily ever after!
Momma Hen @ Craptastic
Vivienne @ The V Spot Great tutorial!
Don't you wish you were here? I DO!
Sarah @ A Beach Cottage found this piece on the side of the ROAD!
Jennie @ Cinnaberry Suite made a key holder!
Betsy @ My Salvaged Treasures Don't you love vintage stuff?
Cindy @ Le Chaise Parfait Isn't this ruffed chair adorable?
Gloria @ Living On A Dime used some texture magic to add dimension on this drawer.
Miriam worked some magic on two side tables.
Cassie @ Primitive & Proper- If you like furniture makeovers, you should follow her blog!
Pink Toes And Power Tools built this awesome hutch to "hide" stuff!
Deb @ Proper Prim built this from scratch! I love it!
Midge from Havin' Fun With Junk chopped down a full sized pew!
Lucy @ Lucy Designs added the cutest embellishments to adorn this special dollhouse!
Laurie @ Little Blue Chairs – Her FIRST attempt with a slipcover!
If you were caught, feel free to grab the button!
Catch-as-Catch-Can rules? No real rules! Keep it clean, link up your blog, your etsy, or a post. Your choice. Grab the button if you like: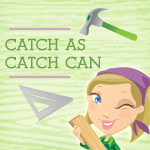 have a great weekend! My regular Saturday Feature "Recent Comments and Questions" will be postponed due to the bridal shower!
gail
I appreciate you reading my blog in your reader and/or via email.
You can reach me at gail@MyRepurposedLife.net