UPrinting.com Winner Announced
I caught some great items this week, check them out!
Cassie @ Primitive and Proper works wonders on ALL of her pieces, but I really love this one.
Korrie @ Red Hen Home has been busy making lots of signs!
Jayna Rae @ Rock N Regalia explains how she made this artwork.
Meg @ Never a Dull Day
Ohhh how I am in LOVE with this room! Stephanie @ Cre8tive Designs loves grass cloth wallpaper.
4 the love of Wood, great chair makeover!
Michael @ Blue Velvet Chair is one talented lady! I've never done mosaics, but this tempts me!
DIY W/ Ivy –Bi-fold doors from the ReStore = mud room lockers!
Lesley @ The Homeless Finch
The Inspired Housewife-Napkin rings! aren't they cute? shhh don't tell anyone they are toilet paper holders.
Janis @ Home Style has a very happy five year old!
Birds + Bowl + glue + paint= awesome!
Sweater repurposed into a skirt by Pintucks And Ruffles
Stephanie @ The Cozy Old Farmhouse made an Edison light. Don't know what that is? click the picture and she'll tell ya!
Suzanne @ Meridian Road put together an awesome cabinet.
If you were caught, grab the button!
Remember, my party is called Catch As Catch Can, which is defined:
Using or making do with whatever means are available; irregular: made a catch-as-catch-can living doing odd jobs.
That's me, my life, the way I do things! No real rules, you don't have to follow, you don't even have to visit (however, if you do, I'm sure someone will visit you). You don't have to link back, but it sure makes me smile when I visit you and you do link back.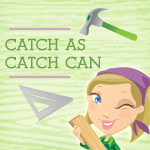 Link up!
I appreciate you reading my blog in your reader and/or via email.
You can reach me at gail@MyRepurposedLife.net