Let's review a little of yesterday's post--
I measured and drew my lines for a Harlequin pattern.
I used the Painter's Tape to mark off my diamonds.
I painted the diamonds blue.
Okay, this is where we left off yesterday. I have a nice repurposed cabinet door with a pretty harlequin pattern painted on it.
Those of us who do not have a vinyl cutter have to get a little creative.
I used some Scotch Blue with Edge Lock Protector to cover my piece of waxed paper, slightly overlapping the edges.
I have my piece of waxed paper covered with the tape. I think it's best to use the non-waxed side of the paper. You can test this by scratching with your fingernail.
I printed out this free template available at Scotch Blue's Flickr page.
I taped the template to the tape/waxed paper sheet.
I used my exacto knife to cut out the fleur-de-lis on a self healing mat. Have you noticed I'm working on my new island/bar/craft table?
I'm not very good at this step, but having the three layers was easier for me than just cutting paper.
I removed the black portion that I cut out to see how my fleur-de-lis is going to look on my pretty harlequin pattern.
I dry fit the "template to see how it would fit.
I carefully removed the waxed paper from the Scotch Blue Painter's tape.
This is my "stencil" upside down with the sticky side up.
I placed the "stencil" on the harlequin pattern and burnish only the edges of the fleur-de-lis.
I used some of my DIY Club prize pack supplies for this next step. If you have not linked up your project to their monthly contest yet, what are you waiting for? The paint is from DecoArt, the stencil brush is from Cutting Edge Stencils.
I blotted the black paint over the fleur-de-lis.
I of course removed it while it was still damp. I was hoping to move it to a new piece of waxed paper so that I could use it another time. However being a fleur-de-lis, it has those tiny little pieces and they did not stay in tact.
You can see that I have a couple of little flat edges on my fleur-de-lis. I got out a tiny paint brush and touched it up a little.
I really like fleur-de-lis for some reason. I think this one looks great on the harlequin pattern.
This is how it is now. I am undecided where I'm going with it next. I'm not sure if I want it to be artwork or put handles on it so that it can be a tray.
If I leave it as artwork (for my kitchen) I will probably paint the outer edge gray so that it will show up on my beadboard wall.
If I make it a tray, I will probably leave it painted as is and add handles and some cute little feet.
What are your thoughts? Do you think I already have enough blue and gray in my kitchen? Do you think the diamond pattern "clashes" with the square pattern on the floor? I'm interested in hearing what you think.
gail
linking to: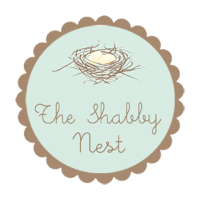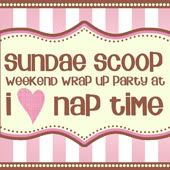 Gail Wilson is the author and mastermind behind My Repurposed Life. She is obsessed with finding potential in unexpected places and believes that with a little hard work and imagination, any old thing can be made useful again, including herself!
Gail reinvented herself during a midlife crisis and has found purpose again. She hopes you will find new ideas for old things and pick up a few tools along the way.