Jamie's 30th birthday is Tuesday, May 29, 2012. I can't celebrate her birthday without showing you a few pictures….
On Saturday we met up about halfway between Louisville and Nashville for an afternoon of food, fun and thrifting! This is at lunch, Jamie with her gift, a Jo Tote. We ate at Buckhead Café.
Andy having fun at Goodwill.
We went to a couple of Goodwill Stores. The first store was just a run of the mill store. NO furniture-but then as we were driving toward our next destination I spied the Goodwill "furniture" store. They had regular stuff, and a back room with furniture. This adorable table was $30. Only about $25 over my limit.
I've always loved gate-leg tables. I should make one someday! I teased with Jamie that this would be the perfect table for my kitchen. All the horizontal spaces in my kitchen seem to hold clutter. This wouldn't hold much, would it?
Look at these clothes—compacted! I found it quite strange.
We went to several thrift stores in downtown(ish) Bowling Green KY.
Granma must be pinching pennies, cause this place didn't have any A.C. There were several fans though.
I of course can't pass by any frames without at least looking! There were also a couple of $5 chairs (up in the rafters). We parked my SUV, and took Jamie's car around town, so there wasn't much room for purchases. Most of the stores closed at 2PM.
It was HOT thrifting at Granma's Attic, so we headed over to DQ to get some ice cream.
Am I a hot mess or what? I don't do heat!
Silly Andy took too long to take the pictures, so he caught me talking. It was a great day, but the kids sure wore me out!
I hope those of you who live here in the good ole USA are enjoying your holiday weekend. I am thinking of those who have served and are serving to keep America safe. My thanks to you AND your families for your service and sacrifice.
At Arlington National Cemetery, Air Force Major Terry Dutcher, of Hill Air Force Base, Utah, visits the grave of her son, Army Corporal Michael Avery Pursel, who died serving in Iraq in 2007 at age 19.
Be safe!
gail
I appreciate you reading my blog in your reader and/or via email.
You can reach me at gail@MyRepurposedLife.net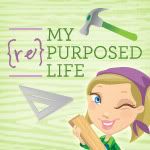 I appreciate you reading my blog in your reader and/or via email.
You can reach me at gail@MyRepurposedLife.net