Did ya know that once family/friends/neighbors learn your dirty little secret (that you LOVE junk) they tend to be eager to feed that little obsession. A neighbor was cleaning out a shed and offered me some stuff. Well, of course I couldn't say NO.
There is a little issue of some mold/mildew and mustiness.
I used a bucket of warm soapy water and a little bleach to wipe it all down. I'm not sure what I'm going to do with these two pieces, maybe I'll just slap some paint on 'em?
Here's the other haul I got recently. Some friends cleaned out their shed too! Love it when people do their spring cleaning!
Look at this baby! I've already put it to good use on a fantastic repurpose. Something different than I've done before. Stay tuned for that!
Look at all of those lovely trim pieces! Crown, fluting, casing, and shelving pieces.
I love getting presents in the mail …
My friend Becky at Beyond The Picket Fence uses belt pieces as handles. When I talked to her about how I was wanting to add a handle on my trunk, she generously offered to send me some pieces.
Love them!
I opted for one long handle that I can reach from either side.
I've also put wheels on my trunk. It's working out perfectly. So much better than what I had been using! If you missed it, check out my post Repurposed Door Into a Trunk.
Tomorrow I have a very unique giveaway! You're going to love it!
gail
wanna see some more great stuff? Check out Linda's Nifty Thrifty Tuesday: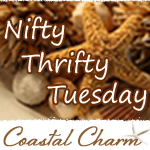 I appreciate you reading my blog in your reader and/or via email.
You can reach me at gail@MyRepurposedLife.net