These are the sconces I found last week at Joey's booth, two for .96 cents.
I first sprayed them with my el cheapo primer.
Then the trusty Heirloom White.
As always, I raise them off the table. When I know I'm glazing, I do not spend the extra time and paint to get 100% coverage.
My favorite glazing medium.
I like the way they draw out the look of the appliques on the headboard.
You can check out the bedroom reveal here.
gail
Linking to: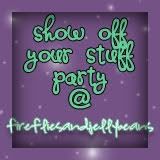 I appreciate you reading my blog in your reader and/or via email.
You can reach me at gail@MyRepurposedLife.net