Have you ever made a felted sweater Christmas stocking from a thrift store sweater?
Hi, I'm Anita. I blog at Going a little Coastal.
I have been following My Repurposed Life since I started blogging a few years ago and I'm always amazed and awed with Gail's projects.
I've always enjoyed repurposing items when I can and I have learned a lot from her. For one, not to give up. Things might not always go as planned.I got into felting wool last year and finding wool sweaters at the thrift stores quickly became an addiction. I loved all the colors and patterns. Felting is washing and drying wool so the fibers blend together and you don't see the stitches anymore. The higher the wool content the better. I use at least 80% wool.
I thought I'd show you what I did with this pretty little green thrift store sweater I found. It was a frustrating sewing day for me but it all worked out.
Ever have one of those days when you have something all figured out in your head,
yet it still does not turn out like you thought? No matter how many times you go over it?
Wash and Dry Wool Sweater
Here is how it started.
After I washed and dried and shrunk it down, I cut it all apart.
Cut felted sweater apart
I removed the seams so that I had a nice flat piece to work with. Save the seams you can use them later.
Make a stocking pattern
I printed out a pattern I found online and pinned it all and then cut it out. You don't really need a pattern but I find it easier. Just google, Christmas Stocking Pattern, and you'll get a lot of hits.
Okay, here is where I made a bit of a left turn and the craziness began.
I sewed the neck ribbing on to the toe of the stocking. I used the printed part for the cuffs and attached them to the top. And I used the sweater seam for the hanging loop.
See how they are sitting? I should have just layered them like that, with the ribbing inside. But NO, when I went to the machine I lost my mind and did the opposite.
I took one look at my creation screamed a few colorful words. So, out came the seam ripper and I started again. The wool is very forgiving!
The cuff was still not right either. I have a seam on the outside but you know what? It's okay by me.
So I will not try to explain the sewing procedure, you are on your own.
I should have just left an outside seam for the whole thing because of the weight of the wool. Which is what I did for these mini ones.
Easy mini DIY felted sweater stockings
It cuts nicely and doesn't unravel. That's the great thing about felted wool. I just didn't have enough coffee and I was not thinking clearly.
Sometimes the simplest things turn out to give me the most trouble. Why is that? Or maybe it's just me.
But in the end I'm happy with my soft fuzzy stocking. I love the color. So the next time your favorite sweater gets thrown in the dryer by mistake, don't fret, recycle it into something else! Soon you'll be accidentally throwing your husbands sweater in the dryer as well. 🙂
And if you'd like to see more projects that I've done, swing on by Going a little Coastal.
Here are a few links you might like.
More sweater projects: Sweater Pumpkins and a Sweater Pillow
My sewing room: a door into a desk, window frame into a memo board
Laundry Room Makeover
Thanks Gail for letting me stop by!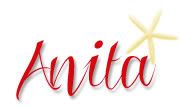 Anita—I love, love, love your stocking, and your mini ones are so adorable too! I hate to sew, but if I ever shrink a wool sweater, I'll definitely be making one of these! The color of yours is perfect. Thanks for a great tute, and your very kind words about MRL!
gail
See more Christmas Decor ideas here
Hi, there! I'm Gail, the author and mastermind behind My Repurposed Life. I'm obsessed with finding potential in unexpected places and believe that with a little hard work and imagination, any old thing can be made useful again—myself included! I hope you'll enjoy the journey and pick up a few tools along the way… literally!