Yesterday I showed you Bubba and Anna's hutch.

I removed all the hardware . . .

. . . sprayed on some primer.

I then started spraying it black. (with my paint sprayer) I sprayed several light coats.

This is after the first coat.

I lightly sand and wipe down between coats. (220 grit sandpaper)

Oops, I got a little bit of a run.

I sanded it back to primer.

This is what I used-my trusty
Purdy paint brush, a foam roller, and a sanding sponge. You can see my Rockler Bench Cookies hiding under the cupboard door.

I sprayed a couple of coats on the back because I knew that Bubba and Anna will be able to see the side of the hutch every time the turn the light on or off in their kitchen.

After two coats of spraying, I switched to rolling the horizontal surfaces for better coverage and protection.

I spray painted the hinges and knobs with the new paint from Krylon—Dual, paint and primer in one. The Dual paint did a great job on this hardware! You should try it out.
I then had to touch up the screw heads with some of the paint I used on the hutch.

It is really difficult to get a good picture of a black piece of furniture. (there is so much glare) I threw a sheet over it after this point, stored it, and never took any after pictures! (the screw heads are not painted in this picture)

This is where the hutch is now. After the wedding, Anna will be moving into Bubba's condo, that has a very small kitchen. They really needed this hutch for extra storage. You can see how nice the hardware looks in this picture.

Anna sent me these pictures from her phone. She will send me more pictures when they get settled in. You can see they wanted it to be black so that it matches their pub style table, a gift from Aunt Gail a few years ago.
I love these kids, and I wish them many happy years (and lots of young'uns). Bubba is more like a son to me than a nephew!
gail
Pin It
See another country hutch makeover below:
Linking to: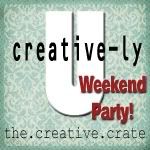 Gail Wilson is the author and mastermind behind My Repurposed Life. She is obsessed with finding potential in unexpected places and believes that with a little hard work and imagination, any old thing can be made useful again, including herself!
Gail reinvented herself during a midlife crisis and has found purpose again. She hopes you will find new ideas for old things and pick up a few tools along the way.