Earlier this week I showed you some of my recent finds. This desk was one of my recent freebies. The drawers are in great shape, but the bottom (veneer) is rough.
This veneer is more than I wanted to deal with in repairing.
Each side of the desk has some issues also.
My Repurposed Life is all about changing things up. I could have just put on some trim, painted it and called it a day. But I'm always ready to use some power tools.
With the help of 3M DIY, I was prepared with the proper tools and was able to safely give this desk the change it needed.
I used my jigsaw to cut the desk down to size, removing all the bad wood.
Note:gail wearing safety glasses and ear protection. I KNOW I'm suppose to wear these, but sometimes I get in a hurry. Recently while taking apart a privacy fence section I was using a crow bar and a hammer. There was ONE loud clang, and I felt a pain in my ear. Just like any good mom, I must remind you, do as I say, not as I do!
If you feel inclined, you can watch this video of me in action. Ignore the extra chins, and the grimace on my face due to a little thing known as damaged rotator cuff. You could use a circular saw, but I think a jigsaw is a little less intimidating to those of you who might be afraid of power tools. I also felt like the jigsaw might not hurt my shoulder as bad.
This was really simple to cut. This is not the first time I've cut something down to size. Do you remember the bench and the entertainment center I cut down from a chest of drawers?
Here it is cut down—oops! It looks like I made a little miscalculation.
I have this really great chair I want to use for the desk. Because it's so old, I decided I should do a leadcheck test on it. It's this little tube. You crush a glass cylinder inside the cardboard to release a yellow liquid.
Then you rub it on your piece for 30 seconds.
If it turns pink, there is evidence of lead. Mine just turned yellowish/brown.
So, anyway, I wanted to use the red chair for this desk. I measured the height of the desk to match the height of the chair. BUT I didn't allow for the center drawer.
This black chair fits. I haven't decided what I'm going to do with the desk. I plan on working on it today. Thoughts? Should I use the great vintage red chair by removing the drawer? Or should I leave the drawer and use this generic black chair?
I love demoing furniture! It's so fun.
UPDATE: see the finished desk in my post Kid's Camouflage Desk
gail
Related Content: See More Desk Projects Here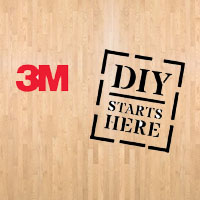 Content and/or other value provided by our partner, 3M DIY.
Gail Wilson is the author and mastermind behind My Repurposed Life. She is obsessed with finding potential in unexpected places and believes that with a little hard work and imagination, any old thing can be made useful again, including herself!
Gail reinvented herself during a midlife crisis and has found purpose again. She hopes you will find new ideas for old things and pick up a few tools along the way.