Painting a touch lamp gives a unique look and purpose to my new Edison Bulb Table Lamp.
I have been wanting to make an Edison bulb table lamp for awhile. I saw some ideas on Pinterest and thought I'd use some wood pieces and some lamp parts to make one from scratch.
However, when I spotted this little beauty at Vendor's Village a couple of weeks ago for ONE dollar, I thought it might be the perfect specimen for my new lamp.
I figured it was worth $1—even if it didn't work, maybe I could use it for something. After I brought it home, I plugged it in, and looked for an on/off switch. I couldn't find one, but suddenly it came on! It's a touch lamp! Not just that, but it's a 3-way touch lamp. It was a little too brassy for my tastes.
First up, I had to deal with that harp. I had no idea how it was attached. Surely, I took pictures, but I can't find them. I used my giant vice to bend it back and forth to break it off about half way down. Sort of a divide and conquer mentality. After I got that done, I put the tiny part of the harp into the vice and rocked the lamp back and forth, until the piece broke off!
Painting Touch Lamp
I got busy with some Heirloom Traditions Chalk Type paint and a hair dryer! It was cool in the house and the paint wasn't drying fast enough to suit me so I made it happen quicker.
After 2 coats of paint, I plugged the lamp in to make sure it was still going to "touch" with the paint on it. Voila! I may or may not have done a little happy dance. Whoever thought of painting a touch lamp?
Another test after the Heirloom Traditions clear wax. Guess what! It is still a three way lamp even WITH the Edison bulb. I didn't expect that!
Here it is on the repurposed dresser tv stand I shared recently.
Edison Bulb Table Lamp
And… she's ready for her close up!
I purposely gave it some texture with the paint. Why? Because I wanted it to look like it was old wood, with several layers of paint on it.
I currently am using it here in the living room on my cut the cord clutter project.
Do you have an Edison bulb light? It does take a little getting use to—the color of light is a odd, but I'm so happy with it. Did I mention that the bulb was $10? So, I have a new lamp for a meager $11.
HOLD the phone! I wasn't pleased with the overall look. Yep, I decided this little lady needed a little bling.
I browsed around on Amazon, and found this Small Wire Keyless Lamp Guard. The measurements looked like they would be perfect for my new lamp.
I have to admit when I opened the box, I thought to myself there was NO WAY that cage would fit over that bulb. But, it fit perfectly! I was so thrilled. I did think about painting it, for about a millisecond, but decided to leave it au natural.
Oh, how I love, love, love it! Now, it's a $20 lamp, but I'm okay with that. It is a 3 way touch lamp and I can touch the lamp base or the shade to turn it on. Seriously, did you know you can paint a touch lamp?
gail
See more repurposed lighting ideas here
find more great ideas and tutorials here: Elizabeth & Co Be Inspired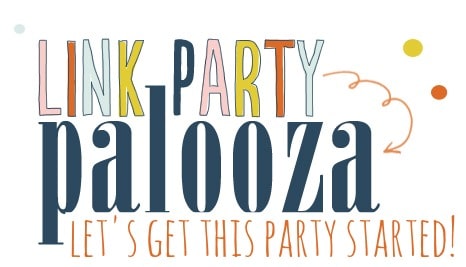 Gail Wilson is the author and mastermind behind My Repurposed Life. She is obsessed with finding potential in unexpected places and believes that with a little hard work and imagination, any old thing can be made useful again, including herself!
Gail reinvented herself during a midlife crisis and has found purpose again. She hopes you will find new ideas for old things and pick up a few tools along the way.