Years ago I made some rustic fence mantel décor—faux garden gates. This Spring while I was looking for a way to organize my garden hose on the patio I came across one of those small garden gates and decided to use it for this Power Tool Challenge project The Patio Garden Hose Organizer.
*this post contains affiliate links, you can read more here. *
This faux gate will make the perfect garden hose organizer
I did have to make a few repairs to the small gate with some Gorilla Wood Glue and a couple of quick clamps. I wanted it to look like someone made a gate into a planter. To achieve that look I would need to build a small box.
I save small fence scraps in milk crates because I sometimes use them to make signs. I chose some boards that I thought would work well for my project.
Simple garden hose organizer add a simple box
After cutting the boards on my miter saw, I used Gorilla Wood Glue and my nail gun to make the small box with brad nails. I attached the box to the faux gate with more glue and brad nails underneath the lower cross brace. You can see I used smaller boards all across the bottom to close up the box.
Easy rustic garden hose organizer
As is, it would make a fun planter box for a porch, patio or even hanging on a fence. But I don't need a planter box, I need a place to organize my garden hose and a few tools by my faucet on my patio.
Small hooks for hanging garden hose
These odd coat hooks were a great deal at Vendors' Village. I really had my heart set on some chippy red, blue or green outdoor faucet handles.
Because dead center of the faux gate was in between two boards, I put the d ring on a slight slant.
Speaking of vintage—check out this screw that has been in this place for years and years. It allowed me to raise my garden hose organizer up off the ground.
Small Rustic Garden Hose Organizer
PIN IT!
The new hose organizer has only been in place a couple of days but already I LOVE having the pocket hose wrangled. A pocket hose is my favorite for this small area. It reaches as far as I need it to, but is so much more user friendly than my other garden hose which I made a DIY Hose Hanger to manage it's mega size!
Now it's time to check out the other outdoor/patio projects from my friends. As the weather warms I'm always looking for great ideas for outside, and they certainly inspire me with their creativity!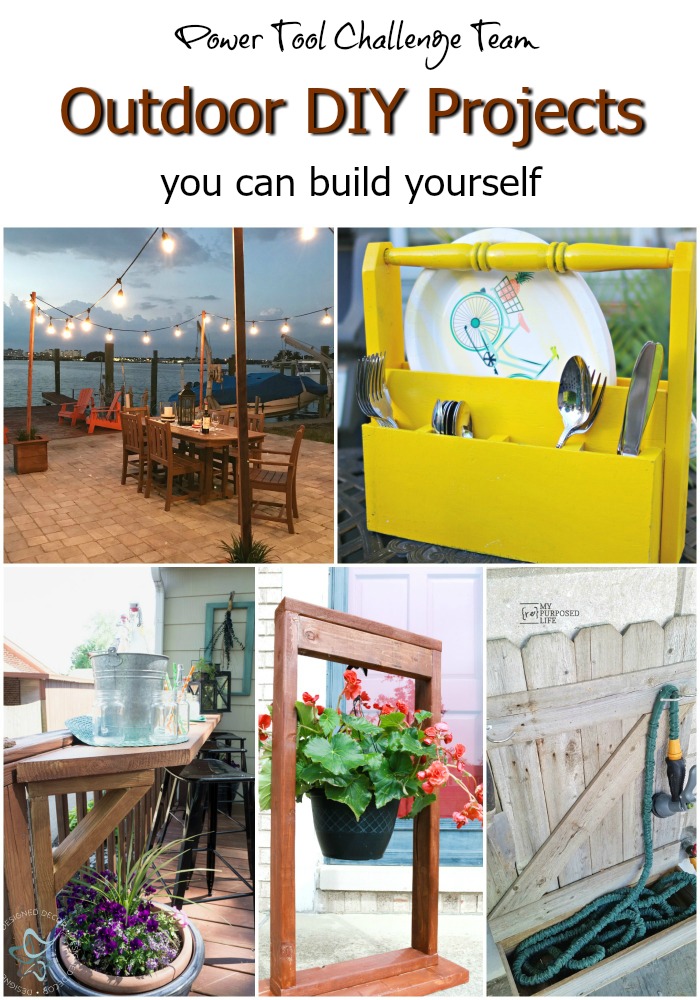 H2OBungalow – Outdoor String Lights on Poles
Create and Babble – Picnic Caddy
Designed Decor – Flip up Deck Bar
The Weathered Fox – DIY Hanging Plant Stand
My Repurposed Life – Patio Garden Hose Organizer
Gail Wilson is the author and mastermind behind My Repurposed Life. She is obsessed with finding potential in unexpected places and believes that with a little hard work and imagination, any old thing can be made useful again, including herself!
Gail reinvented herself during a midlife crisis and has found purpose again. She hopes you will find new ideas for old things and pick up a few tools along the way.