This Pretty in Pink Table Makeover is a guest post from Randi from A Fresh Squeezed Life. Randi is a regular at our Talk of the Town party and has been featured several times. She was the featured blogger in Talk of the Town #64, while her Farmhouse Quote Signs were featured in Talk of the Town # 62. Let's see how Randi deals with a difficult project . . .
Furniture flips are fun....or at least they can be! You hop in your car, head to a yard sale, spot the piece of furniture of your dreams, you bring it home and fix it and VOILA! You have an adorable furniture flip that you will use either in your own house or sell to some lucky person to use in theirs. But not all flips are so easy. Some pieces are surprisingly hard to deal with, and provide lots of trouble-shooting opportunities. They look straight-forward, but they are not. They are meant to challenge you and teach you new things.
Just like life, don't you think?
I found this adorable table and it was in great shape, so the $5 price tag quickly convinced me to bring it home. It had only the original paint on it and it was sturdy.
The day I pulled this one out of the garage I was excited. This one would be quick and simple and I would paint it pink....a first for me! But it wasn't simple. Each and every step of flipping this piece was a struggle. Either I did not have the tools that I needed at the time I needed them, or the processes did not work as they usually do. Every single step was a challenge! And a time-consumer. And a stress-maker. I am pretty sure my neighbors heard a new side of me while I was working on this one. Cuss words were dealt out in a bit more abundance than is my usual. I was certain that this one would end up in the trash heap. There was no way it could be sold. And all of my time would be wasted.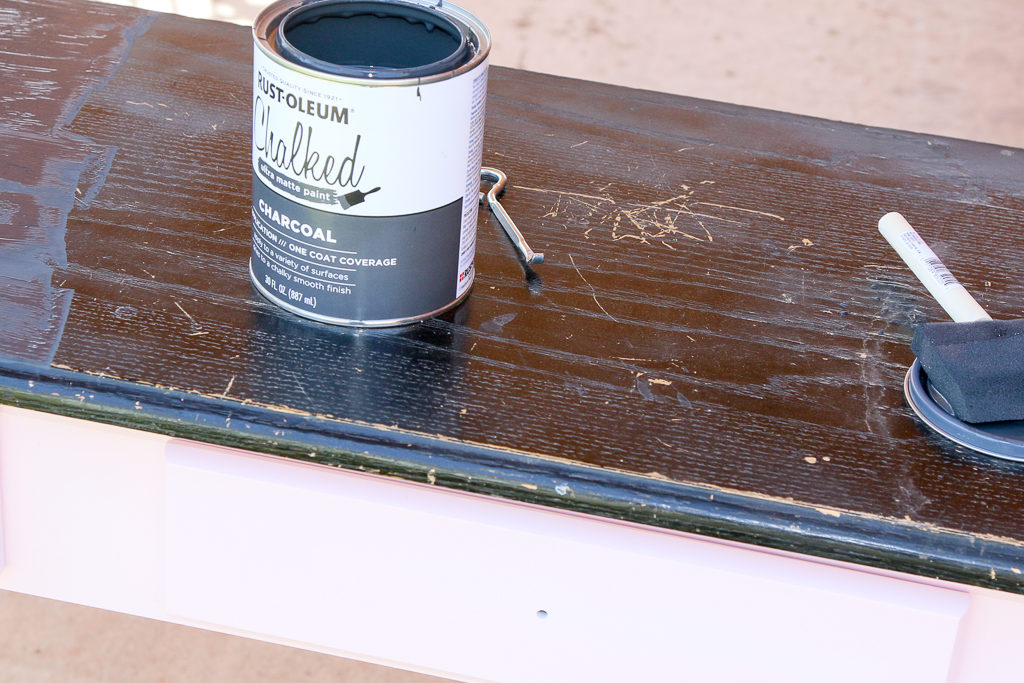 For some reason I stayed the course and plodded towards the finish line. This is something I have learned to do as I have matured in life (which is another way of saying "gotten older). Giving up only leads to a half-done project with no lessons learned. If you can not get to the finish line, there is no prize no matter what. My older years have shown me that the prizes at the finish line are not always what we expect. New insight and new techniques are just as valuable as a perfect finish product.
Maybe more so...
Just to sum things up on this one I will mention that as I was moving her across my living room floor to take these pictures, one of the drawer pulls fell off and hit the floor hard.
Of course it did!
With this piece from start to finish each step was a hassle. Primer running down the table legs, the paint sprayer splurting paint all over the place consistently, bolts too big to get out when I needed them out, screws breaking while trying to remove them, etc., etc., etc. You get the picture.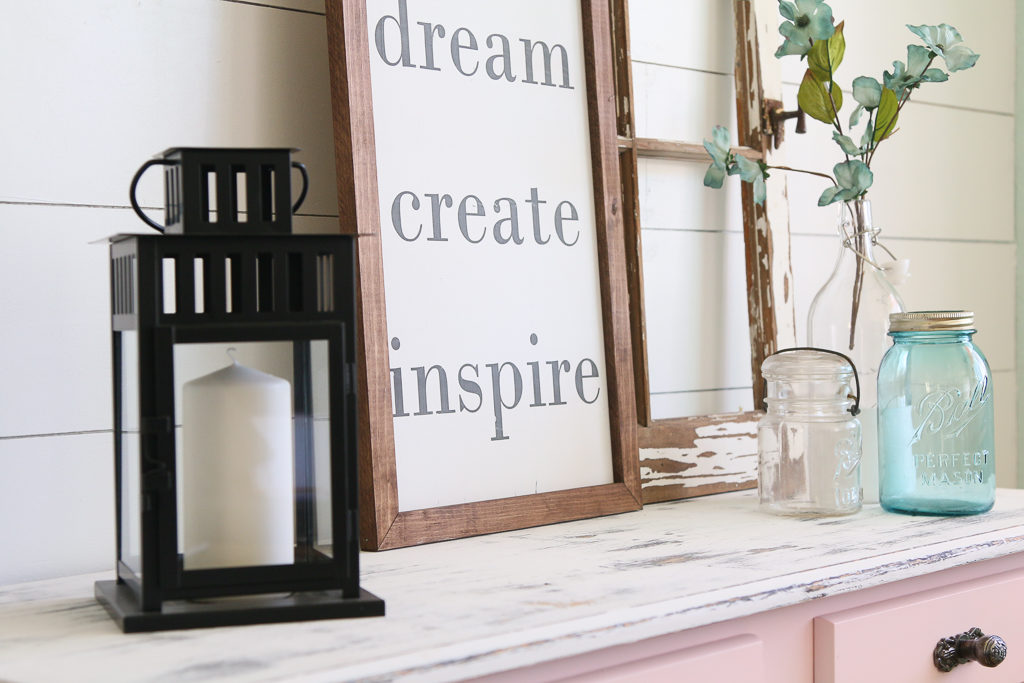 I am very happy and surprised to say that my finished "Pretty In Pink" table is completely sellable and totally adorable. It would make a perfect vanity table for me if my bedroom were bigger. The size of my house, however, dictates that I will be selling her. And I am pretty sure she will go quickly. And so it goes flipping furniture and life. If you make your way through the struggle and learn the new lessons, and apply the new techniques, you end up with something pretty awesome in the end. Maybe it will be a Pretty In Pink furniture flip, or maybe it will be a new and blossoming life that you love.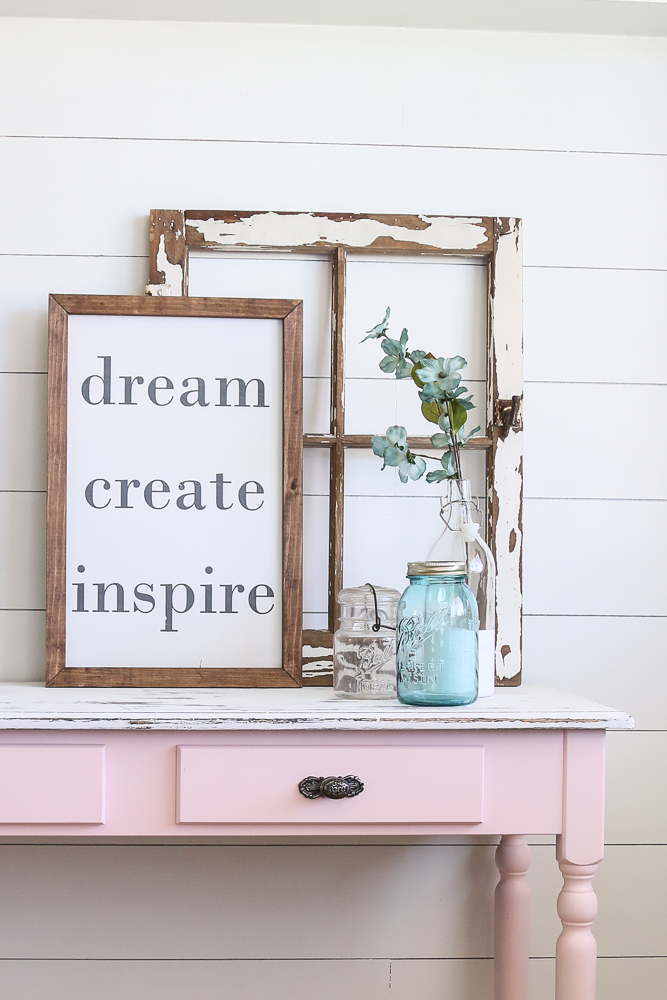 Either way you will be glad you persevered and made it over the finish line! If you would like to check out a couple of my less stressful flips you can check them out here: Farmhouse Gingham Chairs, My Favorite Console Table, and The Desk That Wouldn't Leave My House.
Have a lovely day!
Randi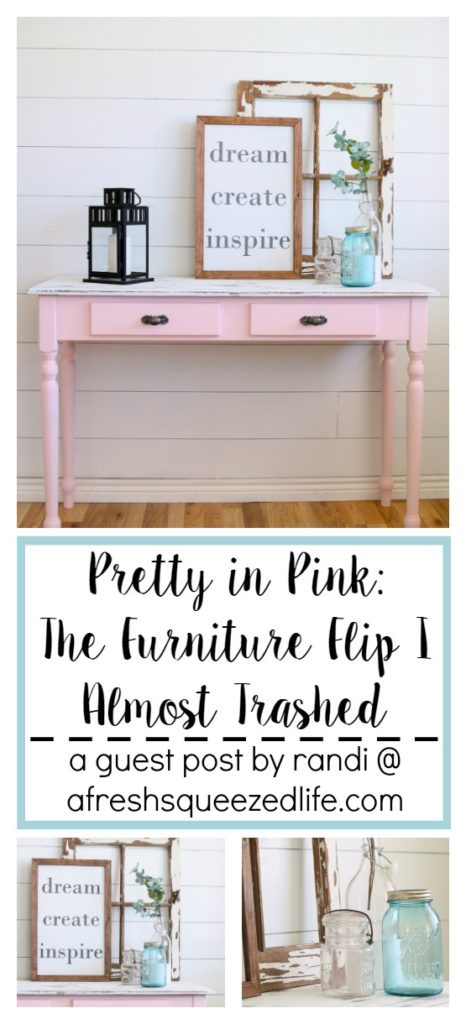 Gail Wilson is the author and mastermind behind My Repurposed Life. She is obsessed with finding potential in unexpected places and believes that with a little hard work and imagination, any old thing can be made useful again, including herself!
Gail reinvented herself during a midlife crisis and has found purpose again. She hopes you will find new ideas for old things and pick up a few tools along the way.