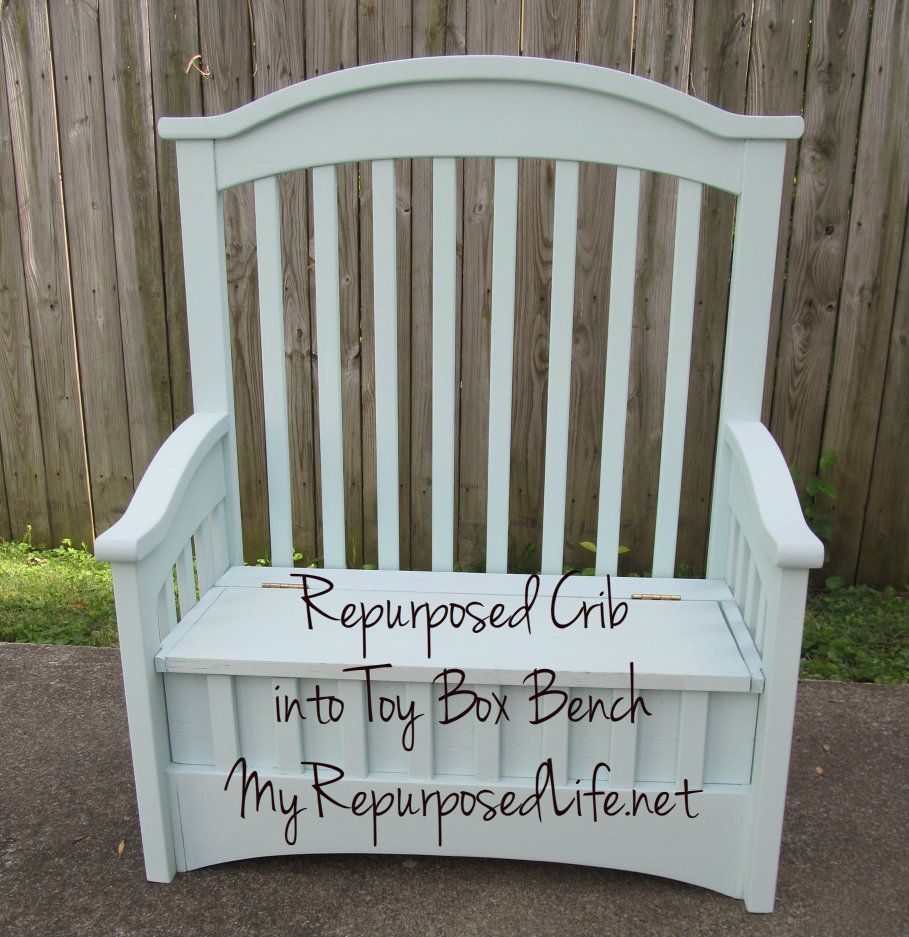 I'm so excited to show you my latest creation! I worked my magic on this  repurposed crib into a unique toy box bench.  The crib was not the most sturdy piece, and I had wondered what I was going to do with it.  I've made benches from cribs before, but they were sturdier.
I am so loving the way this turned out.  Get ready, this is going to be a picture heavy long
MY LATEST VIDEOS
My cousin Sandy gave me these crib parts a couple of months ago. She had intended to repurpose them, but got too busy being a Nana.
*affiliate links in this post*
This one leg was in pretty bad shape. I didn't know what I was going to do with them until I saw this pin. I pinned it to my "to do" board.  I feel grown up.  I don't generally pin something then actually end up doing it!
Because the crib ends were so tall, I cut off the end pieces, which included the part that had been repaired.
I knew that when I started cutting this baby up, that it would get pretty wobbly due to the slats being cut off. To remedy this, I used some scrap lumber to "brace" it.  I shot some nails into these boards to support the side pieces as I designed this piece.  You can see on the left, I've drawn lines where I want to cut it off.
I used my jigsaw to cut through the slats.
I used the jigsaw to cut the piece in half, then I moved it to the miter saw to get a closer/straight cut.
Doing a dry fit, test run.  I then decided I needed a child to measure.  My neighbors across the street have their kids and grandkids visiting, so I walked over with my tape measure in hand.  Thank you Layla Grace for letting me take some measurements.  The arms were a little tall, so back to the jigsaw I go.
I laid the piece down for more design decisions.
Now, on to putting together my box. Including storage for this bench was the key to making it sturdy.  I used some boards leftover from my DIY Barn Doors.  I made the box with my Kreg Jig Jr.
Yep, it's coming together!
More dry fitting.  Gotta love clamps!  Thanks sis!
I added a board across the back, for the lid to be attached.
Testing the "lid".
I have had this board forever!!  I bought it on a trip to The Home Depot in Nashville while visiting Jamie.  (My cull lumber is marked with spray paint—Jamie's home depot marks it different, and you need a lumber slip filled out)
I used Gorilla Wood Glue and my nailer to secure the bottom.
I used these 1 5.8 inch screws to attach the back of the crib to the box.
I used the Kreg Jig Jr to make pocket holes on each of the armrests where they meet the back.
awww, I'm loving it!
I used the jigsaw to cut off the three slats hanging in the middle of nowhere.
Are ya still with me?  Need a break?  go ahead, we'll wait for you to get back. 
This is the piece I cut off to make the armrests.  This is where dumb luck happens!
voila!  Look how nice that looks on the front, tying it all together!
I'm just a wee short on each side.  I filled it in with some small pieces of MDF.  You can see it in a couple of pictures below.
Because the slats are in the middle of the board, they don't rest on the box.
Another scrap piece to the rescue.
Here you can see the MDF pieces on each side of the bottom front.
This is where I had to take a break and rethink some things.  I spoke to Rose on the phone and she talked me through this.  Because of the overhang on the armrests, the lid would not open.  I had to shorten it in the width. But I didn't like the big gap, so more scraps are used to make "fill-in" pieces on each side.  I notched them to fit really snug.
Much better!
Are you loving it?
In order for the lid to be secure and have something to "rest" on, I had to add a couple of 1×4's…one on each side.  If you look closely, you can see the MDF sticks out some.  I sanded it with my orbital sander and it now blends right in with the front piece.
Off we go to the paint booth.  I always start by painting the underneath side of my pieces.  Of course I used my HomeRight Finish Max Fine Finish Sprayer
 on this piece.
I chose a color from my massive inventory of oops paint.
I had to put the hinges on and off several times.  I hate hinges!  I have a hinge for the inside (for safety) but I'm not sure it's going to work the way I need it to.
This is my first bench with storage.  It is really sturdy, it holds me just fine.
I will offer to personalize it with a name (Silhouette Vinyl) if someone wants it.
This really was a fun project to build!  Are you inspired?  Got an old crib laying around? What are you waiting for?  Get busy!
Love it? Please share it!
I gave it to this little guy in July 2012.  Do you think he loves it?

gail
Check out my other repurposed crib projects