I'm sure you remember this project. I got this giant candlestick and pot lid during the Hop & Shop in Indy with Sarah and Beckie.
I painted it all up to match and put it in my front flower bed by the fish pond. But! The birds do not like it. I am guessing they think it's too deep. I tried to put a little something in there for them to land on, but no, they still didn't visit. I do have a small (very old) concrete birdbath that the birds frequent every day. But I really wanted them to like this one.
I picked up some enamel lids. I actually had already bought this one when I found the other two at Joey's booth for 50% off.
You can tell that it is more shallow.
I used a mixture of the same two colors.
I used the sage first.
Then I used a dash of the turquoise.
You can tell that it is NOT near as deep as the original one.
Please ignore the dying overgrown vegetation. It's been so hot that I haven't taken very good care of the yard.
This shadow box is the one I made for my shadow box tutorial. Ya'll know I was never really happy with the finish. I continue to struggle with paint choices. I know that paint can make or break a project. Check out my first experience with changing my mind on this desk. I'm currently working on a project. I've got the primer on it, but can't decide on a color.
I painted the whole thing with Rustoleum Heirloom White. I sprayed the front and inside, and brushed on the back and outside parts. I was NOT going to try to paint the inside again with a brush.
Then I lightly glazed jus the frame, leaving the inside alone.
I used some of Jamie's items to stage it. I don't have a place to hang it. It will wait in storage until I find a new home for it.
Now about the fabric I printed on:
I ironed half of it so that I could wash it as a test.
I used a very old pillow case to cover the drop cloth.
This is how it came out of the dryer. You can see that the left side is faded. I washed it in a regular cycle in cold water. I also used Fray Check on the ironed side. You can see that it did make a difference.
Here it is laying on the other one I printed. I realized that I don't think I ever washed this drop cloth. I have had it for years and actually use half of it for a "drop cloth". heheheh See how different the fabric looks? I wonder if it would have "set" better had it been washed prior to printing? If you were to see the ironed part without seeing the other one, I'm not sure you would know that it faded. It just sort of has that aged look to it. So, to sum it up, ironing did help set it. I made a little pillow with one of the images:
gail
linking to: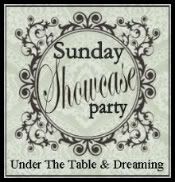 I appreciate you reading my blog in your reader and/or via email.
You can reach me at gail@MyRepurposedLife.net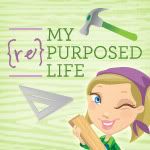 Gail Wilson is the author and mastermind behind My Repurposed Life. She is obsessed with finding potential in unexpected places and believes that with a little hard work and imagination, any old thing can be made useful again, including herself!
Gail reinvented herself during a midlife crisis and has found purpose again. She hopes you will find new ideas for old things and pick up a few tools along the way.