I have finished another bench. You can see the tutorial on building this bench in my post Pretty Headboard Bench.
I got this headboard and foot board free last year at a yard sale.
This post contains Affiliate Links
This bench was easy to build, but it sat like this since last summer, waiting for a seat.
This was the planned seat, leftover hardwood flooring. Fast forward 9 months, and I had a change of plans.
I decided to do a plank seat on it. I cut my boards to length and then notched out the board in the back.
Using my Kreg Jig
I fastened the boards together to give the seat a look of one large board.
I pre-drilled all the pocket holes and loaded them with screws. I used some clamps to make sure the boards didn't shift left to right as I connected them.
If you noticed in the picture up top, the brace went crosswise because the seat was going to go from front to back. Because I changed my mind, I removed the brace, cut it and added two braces in the middle to support the length of the new seat.
It's sort of a manly bench, looking funny in some of the pictures.
It looks like it's a squatty (short) bench, but it's not. He's sort of got stubby legs.
I stained the seat with Jacobean. I think he might look better if he had some armrests. However, that is not in the plans. Of course, I can't say I won't add armrests, but I certainly don't plan to. I'm pretty sure I'm calling this fella done!
gail
ps from the first picture above--I saved the pedestal on the footboard, and five years later I made this!
See my favorite Mission Style Headboard Bench with Storage-The Complete Tutorial
See other
fun benches
here
linking to: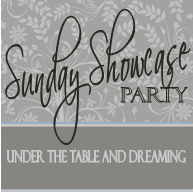 Gail Wilson is the author and mastermind behind My Repurposed Life. She is obsessed with finding potential in unexpected places and believes that with a little hard work and imagination, any old thing can be made useful again, including herself!
Gail reinvented herself during a midlife crisis and has found purpose again. She hopes you will find new ideas for old things and pick up a few tools along the way.