I have seen great makeovers of those old plastic dresser mirrors, and have always wanted to do one. I could never find a great deal on one. Recently I found one at a Peddler's Mall and it was $30. what? crazy!
So, I found one a cheap one, and used my favorite color/paint technique of late.
It was REALLY heavy when it had the mirror attached.
This was just your run of the mill plastic mirror, and what a steal—$2 lower than my regular $5 limit!
I took a picture of the back so you could see that I got a deal-it had been $5, then $4, and finally $3.
I mixed up a homemade batch of DIY Chalk Paint with some plaster of paris, water and latex paint. I don't measure when I make it. I make a paste of the POP and water, then pour that into the paint.
It stuck really well to the plastic.
I liked it black, but I thought it needed a little help bringing out the details.
I dry brushed on some very bright turquoise paint that I've used for several projects including, finials from bed parts, and the double chair bench.
Not pictured: I painted the cardboard that held the mirror in place with regular chalkboard paint.

It's really large. It could hang, or even set on the floor.
I practiced some lettering…I have a ways to go!
I love making chalkboards. I suppose this one will be going to Glendale Crossing Days in October.
gail
See other great chalkboard ideas here:
[categorythumbnaillist 77]
sharing here: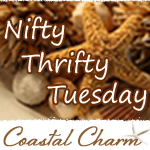 Gail Wilson is the author and mastermind behind My Repurposed Life. She is obsessed with finding potential in unexpected places and believes that with a little hard work and imagination, any old thing can be made useful again, including herself!
Gail reinvented herself during a midlife crisis and has found purpose again. She hopes you will find new ideas for old things and pick up a few tools along the way.