It's amazing what a new (fresh) coat of paint can do for an old outdated piece of furniture!
You may remember this old side table that I was working on for my nephew. It has definitely seen better days!
This is the other side table he needed help with. I believe he's going to use this one in the living room.
I painted each table with a couple of thin coats of "oops" primer I got cheat at Home Depot.
I painted these tables with Dutch Boy Refresh Paint (sweetened white) this is the same paint I used to paint my oak kitchen cabinets.
I removed the hardware while I painted. It might seem like extra work, but it really is worth the extra time in the long run.
To get a nice smooth finish on the top I used a small foam paint roller
. In fact I used a paint brush on these two pieces very little.
I love how clean and fresh this table looks now!
Aren't they sweet?
Oh my! That old hardware is NOT going to work on this pretty new looking table.
Enter some Krylon Spray Paint.
I sort of wish I was keeping this table! This is my favorite of the two. What about you? Which do you like best?
Would you like to check out my Candlesticks and More?
Reminder:
You can still enter to win a $75.00 CSN Stores Gift code.
Say It On The Wall is offering my readers 30% off through the month of February. Laura's prices are so reasonable, with 30% off, what are you waiting for? Head on over now!
I hope you have a very Happy Valentine's Day!
gail
All Amazon links on My Repurposed Life are part of my affiliate shop. I am also an affiliate with Say It On The Wall.
Linking to:
I appreciate you reading my blog in your reader and/or via email.
You can reach me at gail@MyRepurposedLife.net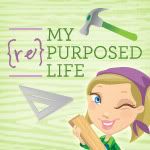 Gail Wilson is the author and mastermind behind My Repurposed Life. She is obsessed with finding potential in unexpected places and believes that with a little hard work and imagination, any old thing can be made useful again, including herself!
Gail reinvented herself during a midlife crisis and has found purpose again. She hopes you will find new ideas for old things and pick up a few tools along the way.