I know, this is a desk, not a kitchen island. At least it WAS a desk before I changed it up. I built a new island/craft station for my kitchen about 18 months ago. I decided to paint it a couple of weeks ago. Why does it take me so long to finally get around to doing stuff?
This how the island has looked for the last year and a half. (well, as far as the color goes at least) The cubby hole holds a lot of projects in waiting.
I didn't want to empty all the drawers and haul it outside to spray it with my CommandMax, so I used the next best thing…a big ole Purdy paintbrush.
If you don't own a couple of these, you really need to pick some up. In my opinion, Purdy is the BEST paint brush there is. (nope, I get nothing for saying that-they probably don't even know I use their brushes)
I didn't want to clean out the project--this was a quickie makeover. I used a foam brush to paint the toward the edges that I left gray (for now).
A Purdy is a great brush, but the bristles of any brush will dust the inside edge. A foam brush works great for this.
I stacked the drawers on top of the island to paint them. You can see the type of stuff I keep in my drawers.
I painted two coats of Behr Premium Plus Ultra on my black kitchen island.
Yep, the picture makes it look small—but I think black really does slim.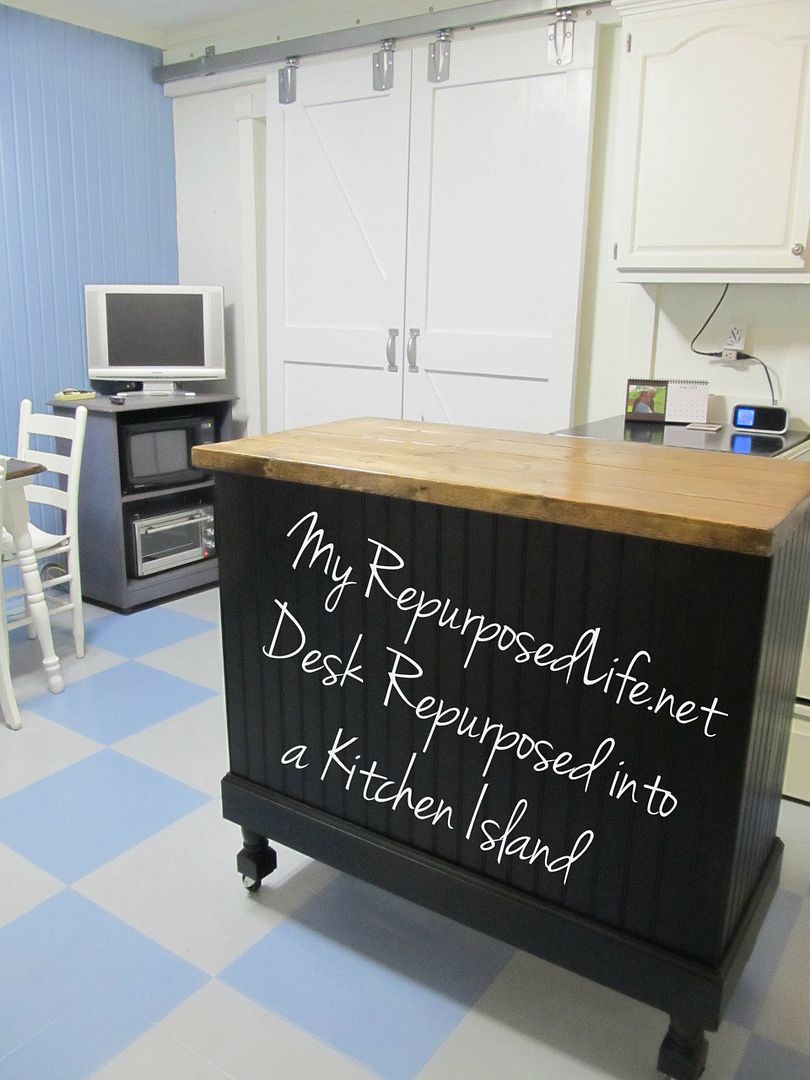 My island looks smaller.
Have you ever asked for someone else's opinion, and then did what you wanted? I asked my friends on Facebook about the color. I wanted black, and there was EVERY color suggested except black! I thank you all for your input. I always wanted it black, but I originally went with gray, and never took the time to change it—till now!
I really, really do love it! Will it stay black? I dunno….we'll see!
Curious about how I changed up that little bitty desk into an island/craft station? Check out these posts: DIY Kitchen Island, DIY Kitchen Island Top, and DIY Kitchen Island Completed.
I changed up the kitchen island AGAIN! I love it even more now!
gail
Gail Wilson is the author and mastermind behind My Repurposed Life. She is obsessed with finding potential in unexpected places and believes that with a little hard work and imagination, any old thing can be made useful again, including herself!
Gail reinvented herself during a midlife crisis and has found purpose again. She hopes you will find new ideas for old things and pick up a few tools along the way.