Way back in March I got this headboard and foot board from Jan. I remember it was march, because I posted a picture of it for St Patrick's day, because of the color.
The first thing to do when making a headboard bench is to cut the foot board. On a twin bed, I cut the foot board in half. That is a simple thing to do now that I have this handy dandy tape measure that centers measurements for me.
I marked the center.
The table saw is the easiest way for me to cut it in half.
I have one place to make benches or anything that needs to be level. This is the place on the driveway that it all has to be done.
You can see that I have clamped the sides (foot board cut in half) to the headboard (back).
I marked the place where they would be attached.
To make sure that the sides are level, I check to see if the driveway is level. See where the bubble is?
I make sure that the bubble is the same place on the side (armrest)
I used my Kreg Jig
to make pocket holes for attaching the sides to the back. This is the first bench I've made this way. It is SO much better and much easier than the old way that Cathy and I used to make our benches. No glue needed, and it really draws the pieces together.
I used a 1x6 for the front brace. Because my clamp is not long enough to reach from one side to the other, I use two clamps. Genius? Yeah, I think so!
I used my Kreg Jig
for pocket holes, but decided that I would use some Gorilla Wood Glue for extra hold.
You can see that I sanded the green paint. This paint was very glossy and I knew it would be difficult for paint to "stick" to it.
Because I was making the bench for Jan, I bought 1x2's for the planked seat. I cut them to size and laid them across the seat to see how I was going to place them and space them.
You can see that I filled the "slots" from the original rails with some spackling.
I use my combination square to set the depth of the planks.
I used a metal yard stick to space the planks an even distance apart, while using the combination square to set the "overhang". Doing this insures that each plank is uniform and equidistant. I used my 18 gauge nailer to nail the planks to the support braces. (front and back)
I used my paint sprayer to apply a primer.
Okay, here's the funny thing. This picture is still only primer. Somehow I did NOT take a picture of the finished bench! What kind of blogger am I? I will tell you that I painted the bench the same color as I painted Jan's Shutter Bookshelf.
It's funny, no two beds (benches) are alike. Cathy and I worked on two benches this week, but they need to be painted.
gail
See my favorite Mission Style Headboard Bench with Storage-The Complete Tutorial
See other fun benches here
linking to: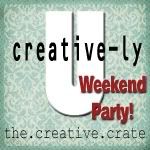 Gail Wilson is the author and mastermind behind My Repurposed Life. She is obsessed with finding potential in unexpected places and believes that with a little hard work and imagination, any old thing can be made useful again, including herself!
Gail reinvented herself during a midlife crisis and has found purpose again. She hopes you will find new ideas for old things and pick up a few tools along the way.