If you're looking for repurposed desk project ideas, you're in the right place! Don't throw out that old desk until you've looked at these ideas for upcycling and changing that desk into a new and useful piece of furniture for you or your family.
Some of these upcycled desk ideas require a little bit of sawing. But if you're not into sawing furniture, you can still save an old desk with a new coat of paint. If the desk is beyond repair, save those desk drawers for simple projects.
I recommend keeping an eye out while you are at thrift stores for desks with good bones. But don't overlook a cheaply made desk if you can get it free, or at a good price. Let's see some fun repurposed desk project ideas to get your creative juices flowing.
PIN IT!
Repurposed Desk Project Ideas Using Saws
This dressing table made out of an old desk is one of my favorite projects ever. I've never seen anyone else use desk drawer sets in this way.
A kitchen hutch buffet doubles as a charging station for a busy family. The original desk was too deep, taking up too much floor space. Cutting the desk depth makes this kitchen hutch more desirable.
This kitchen island/craft station was custom made in order to make standing at it comfortable. If it were "counter" height you would need to hunch over in order to craft or prepare food.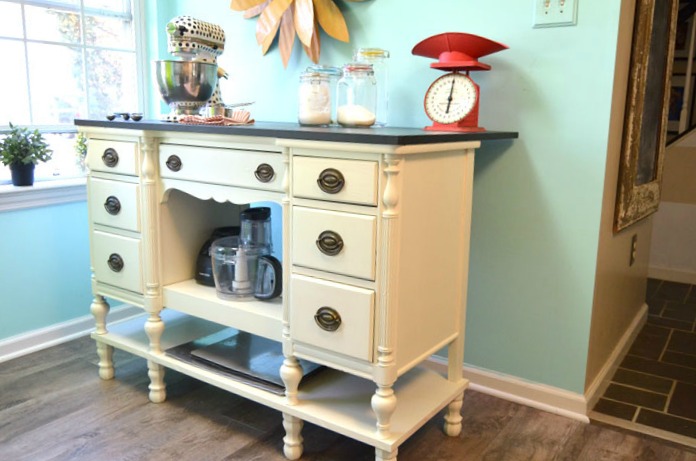 Here's another great desk repurposed into a kitchen island.
This repurposed desk project idea turning a desk repurposed into a lingerie chest is very clever. It is so useful in the master bedroom. It offers so much storage and takes up very little floor space. Adding little feet and glass knobs gives this piece a little something extra!
UPDATE: I changed the color, I painted it Polo and I love it!
Turn an old desk into a potting bench by adding shutters and more.
Make your own standing laptop desk or table using a t.v. tray table for about $20.
Kids art desk made from an old armoire is a great repurposed desk project idea using an armoire to make a new desk for the kids. It closes up and tucks away to hide all the art supplies when not in use.
A water damaged desk with bad veneer can be cut down to make a fun camouflaged desk for the kids. Using a saw to cut off the lower portion that was damaged, brings a large desk down to kid size.
How to reconfigure an antique waterfall vanity into a desk. Tips for dealing with bad veneer.
Desk Makeover Ideas
A very abused and neglected antique school desk needed a little TLC.
A mid century modern vintage desk gets a quick makeover with spray paint.
When an old desk has bad veneer, this faux leather brown paper bag technique of decoupage is a great way to cover up the veneer.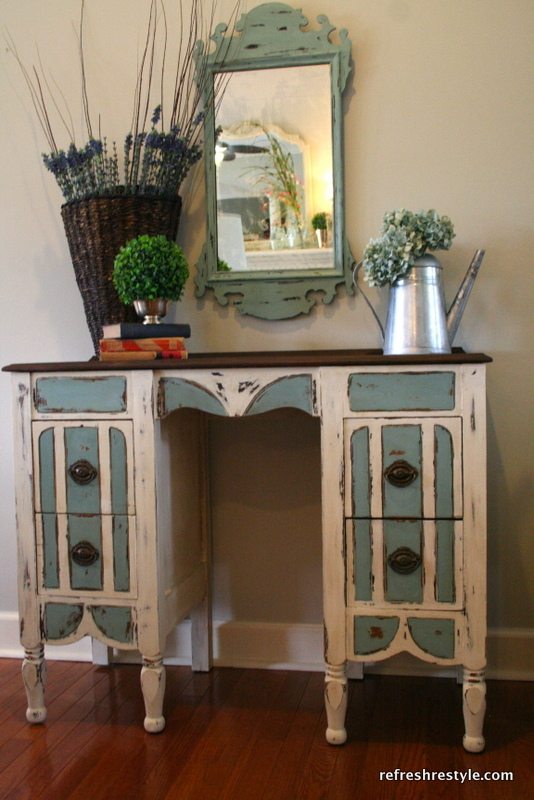 Sometimes an old desk just needs a fresh new look. An old beat up desk gets a new lease on life with a little paint and stain.
One more old piece that needed a little TLC as in this Updated Sewing Cabinet Desk.
Tips on how to fix up an old desk that was found on the side of the road. Make repairs, paint and stencil to get years of use.
This thrift store desk got a wonderful makeover.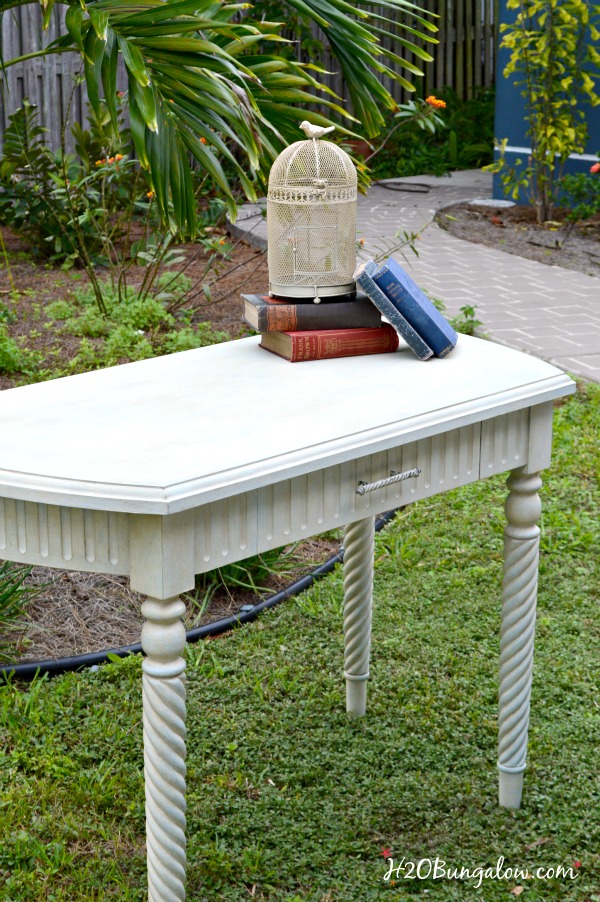 Library desk with antiqued patina.
An old roll top desk gets a new look.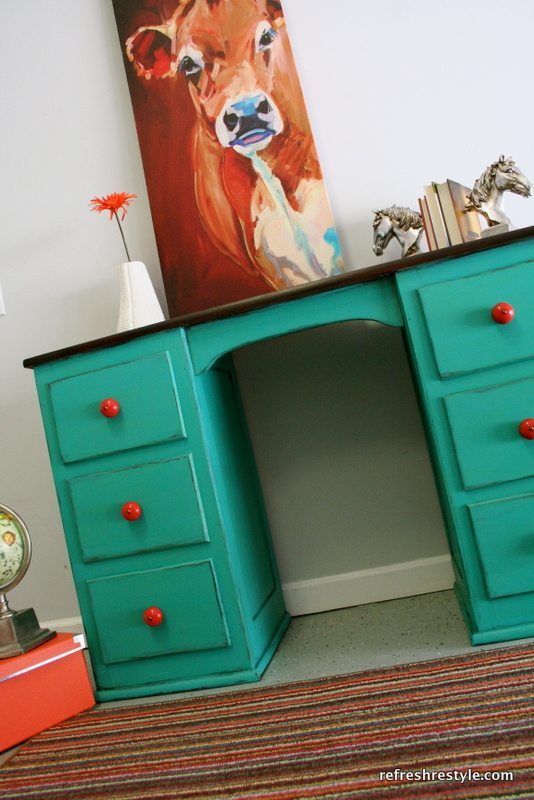 Easy Desk Makeover
This desk with missing drawers is now so perfect with it's new cubbies!
Desks Made From Repurposed Furniture
How To Make a Sawhorse Desk
How to make a writing desk out of a sewing table and an old drawer.
An updated computer desk makes the perfect coffee station or kitchen island.

How about using an old table leaf and legs to MAKE a new writing desk? Complete directions on how you can use old table parts to make a new desk.
Using small pieces of furniture like nightstands is a great way to make a desk for the kids. This was a free nightstand and was made of particle board. After adding a a new top and a shelf on the end, this Kid's Chalkboard Desk project was a hit!
Here's another fun desk made from a repurposed nightstand for the kids.
Cabinet doors are one of my favorite items to search for while thrift shopping. Mindi shows you how to make a fabulous lap desk or bed tray out of cabinet doors.
How to use reclaimed cabinet doors to build a desk for your busy family.
Using Desk Parts for New Projects
I parted out a desk and saved the curvy desk top to make a narrow wall shelf.
I love this serving tray made from repurposed desk parts. In fact, I was the lucky recipient of one of these projects as a Secret Santa Swap! Mine is the pretty blue one (middle right).
Years ago I came across a desk, but could only take a few drawers. I used the center drawer to make a chalkboard memo center.
Use a pretty desk drawer to make a small shelf
Are you a lover of all things desk like I am? I hope you found something to inspire you to think outside the box with your next desk project. Whether it's giving a desk a makeover, building a desk out of repurposed furniture items or creating a new piece of furniture from an old desk. I'd love to hear what you think about this fabulous collection of desk project ideas.
gail
Gail Wilson is the author and mastermind behind My Repurposed Life. She is obsessed with finding potential in unexpected places and believes that with a little hard work and imagination, any old thing can be made useful again, including herself!
Gail reinvented herself during a midlife crisis and has found purpose again. She hopes you will find new ideas for old things and pick up a few tools along the way.