These 25 plus repurposed drawer ideas will inspire you to drag out those old drawers and get busy with a new project. They could be from the kitchen, a dresser, or a vanity. You know you have some somewhere, right?
Repurposed Drawer Ideas | Shelves

This easy Repurposed Drawer Jewelry Organizer project can be completed quickly and easily from any drawer you have. You could even make this out of new lumber by building a simple box.
I have the best Repurposed Drawer Shadow Box tutorial. Sometimes I use other tutorials as my inspiration. However, I hadn't seen anyone else do this before.
Using an orphan piece of furniture, I love how this Vintage Drawer Shelf turned out!
Use several sizes to make modular shelving. This simple project can be done with a screwdriver.
Similarly, don't you love this repurposed drawer shelf from Beyond The Picket Fence?
Another way to make a great shelf! How about Brightly Painted Bookcase Shelf? Stack them and add a few feet to give yourself a little extra room to display your knick knacks.
Line them up vertically and add doors and you have a great media cabinet for the family.
A taller Repurposed Kitchen Drawer Shelf was made to rest on the floor.
What a unique project – a cabinet with chicken wire.
Would you believe THIS small cabinet was made from two old drawers?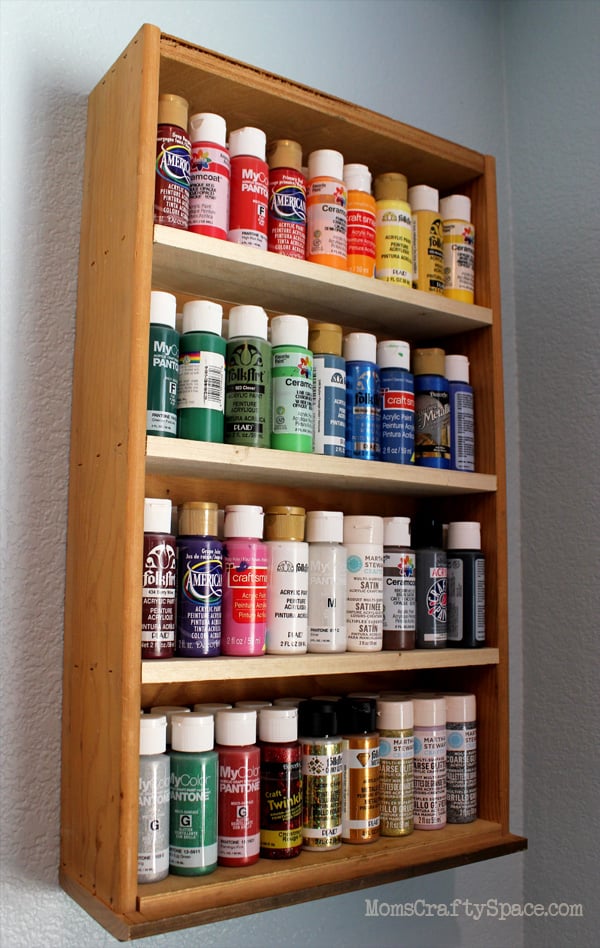 Finally, an awesome Craft Paint Storage Idea from Mom's Crafty Space
Sewing Machine Drawers
Do you have some antique sewing machine drawers? This Antique Sewing Drawer Set Makeover is a great way to use those sets that have been separated from their original chassis.
Add a top, bottom and legs and you have a cabinet. This was years ago, and yes—I would probably make it differently now. However this will hopefully inspire you to think outside the box to reuse your old sewing machine cabinet drawers.
The Decoupage Sewing Drawer is an easy project to update a single drawer with napkins.
Repurposed Drawer Fronts
I got a couple of ornate drawer fronts from a neighbor. Certainly, you can see they would make great Coat Hook Repurposed Drawer Front projects.
This is the repurpose of the second piece shown above. Doorknob Scarf Holder
An old dresser Drawer Front Welcome Sign, is a simple project anyone can do.
An old dresser drawer front was used to make a Drawer Front Hook Rack. Because of the pretty curves, the fleur de lis hooks were perfect!
Even more creative, are these DIY Serving Stands made from drawer fronts from my friend Mindi.
Another great repurposed drawer front from Designed Decor
Repurposed Drawer Cubbies
A unique Writing Desk Hutch was made with a sewing table as the base and a drawer to make the cubby holes.
You can make this Cubby Organizer with this great tutorial from my friend Mindi.
Pet Ideas
What pooch wouldn't love a dog bed from DIY Show Off?
Almost as cute, is this dog bed | toy box. It is a fun way to use a single dresser drawer.
Organizational Ideas
Do you need more under bed storage? Mindi will have you rolling along in no time with her detailed tutorial to make your own project.
Repurposed Drawers | Spindles
Old Drawers into Planters, are not only pretty, but very practical!
Scavenger Chic added a drawer with spindles to make a nightstand.
Chalkboard & Memo Boards | Repurposed Drawer Ideas
Make a chalkboard out of an old desk drawer. A little reconfiguration will aid in making your chalk tray.
An oversized desk drawer is perfect for a chalkboard. Again, reconfigure the tray for the perfect chalk and eraser tray.
Finally, a Shallow drawer with a divider makes a great Memo Board to keep you on schedule.
gail
See More Great Repurposed & Upcycled Ideas Here
DIY Planter Ideas for All Skill Levels
Pet Projects, DIY for Your Fur Babies
Projects For Children | Repurposed Beds & Cribs
Kids Organization Ideas Using Repurposed Furniture
Picture Frame Ideas For Home Decor & More
Repurposed Furniture Old Dresser Ideas
Upcycled Projects & Home Reno Ideas
Repurposed Lamps, Chandeliers & More
35+ Cabinet Door Project Ideas
Repurposed Sewing Machine Cabinet Ideas
Repurposed Glass Ideas | Plates, Bottles, Jar
Fall Decor Ideas | Thrifty Finds
How To Glaze Painted Furniture
Gail Wilson is the author and mastermind behind My Repurposed Life. She is obsessed with finding potential in unexpected places and believes that with a little hard work and imagination, any old thing can be made useful again, including herself!
Gail reinvented herself during a midlife crisis and has found purpose again. She hopes you will find new ideas for old things and pick up a few tools along the way.